P.O. Box 1273, Point Pleasant Beach, NJ 08742. (732) 892-3091
http://www.pointpleasanthistory.com/pphs.htm
We are an incorporated non-profit organization founded in 1976 and concerned with the history of Point Pleasant Beach, Point Pleasant and Mantoloking, towns on or near the shoreline of central New Jersey. We invite you to explore the large and growing collection of pictures and articles scattered about this website. Features often change.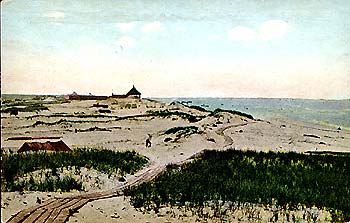 The Early Boardwalk - Point Pleasant Beach back when there were sand dunes and before there were crowds. This postcard, dated 1918, looks northward. In the distance is the Inlet Pavilion.
---
Our latest online project is Timelines of Point Pleasant History, a chronology of about 60 historical events with links to over a dozen illustrated articles on local history -- from the first documented European view of the area by the crew of Henry Hudson in 1609 to an account of a successful drive in 1954 to prevent the construction of a power plant on Manasquan Inlet. We suggest you access these articles through the Timelines feature, But you can go directly to many articles below:
---
Our Museum is located in Point Pleasant Beach Borough Hall, 416 New Jersey Avenue. The entrance, off New York Avenue, is handicapped accessible. The Museum is open on the second Thursday of the month from 1 - 4 P.M. and by appointment.
---

The society's Video, Yesterday On Film, preserves rare movies of the area from the 1920s and 30s. It includes scenes of local fisherman rescuing victims of the Morro Castle ship fire, the building of the modern Manasquan Inlet, local steam trains, a 1920s travelogue, Vacation Time in Beautiful Point Pleasant, and a prohibition era silent comedy, Mantoloking Moonshine.
---

Meetings are held at the Woman's Club building, 513 St. Louis Avenue, Point Pleasant Beach, and begin at 7:30 P.M. We meet on the second Monday of the month, from March through November (with July and August off for a summer vacation). Guest speakers are featured at the meetings and are announced in our online Newsletter.
---
The Point Pleasant Historical Society web pages are presented as part of the Point Pleasant History site of Point Pleasant Beach Historian Jerry Woolley.
TIMELINES
A chronology of Point Pleasant area history with links to over a dozen articles. Photos.

NEWSLETTER
The online edition of "History Term Paper" -- features, meetings.

MUSEUM
An online tour of our museum at Pt. Pleasant Beach Borough Hall.

ANNOUNCEMENTS
Society news.

JOIN THE PPHS
It's cheap and you get the newsletter.

SEND MAIL
Ask a question, make a comment.
---